Terragon Environmental Technologies (Terragon) is a Canadian company whose mission is to develop waste-to-energy solutions that enable any habitat to treat its own waste locally and with significant benefits from the recovery of resources contained within the waste.
Read how Terragon partnered with the U.S. DoD to realize another step in its journey to introduce more zero-waste-discharge habitats to remote locations around the world.
About Terragon Environmental Technologies
Montreal, Quebec based Terragon Environmental Solutions (Terragon) was created with the big vision to develop simple waste and water management solutions that would enable any habitat to treat its own waste locally with no environmental damage and with significant benefits from the recovery of resources contained within the waste.
With this purpose in mind, this Canadian company now offers innovative solutions for remote habitats, military bases, ships and sea platforms, work camps, biomedical and hazardous facilities and other industrial facilities that purifies oily water, grey water or black water or converts solid waste and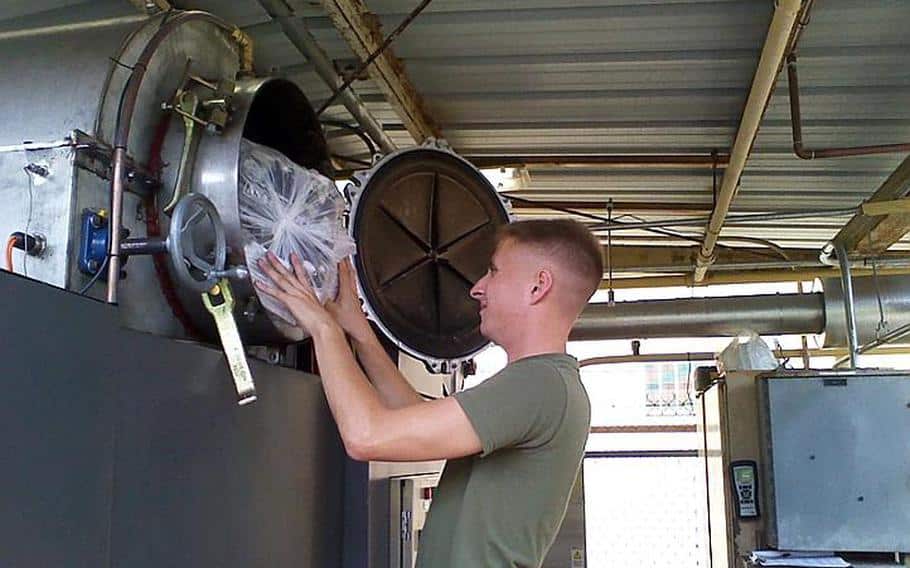 Waste Disposal for U.S. Marine Corps
Through a CCC government to government (G2G) contract, Terragon had the opportunity to work with the U.S. Department of Defense (DoD) to deploy its waste and water management technology in the field as a single integrated system.
In partnership with the Office of Naval Research (ONR) and the U.S. Marine Corps Forces Pacific (MARFORPAC) in Hawaii, Terragon demonstrated its high-tech trash disposal system that uses a controlled decomposition process to reduce a standard 50-gallon bag of waste to a half-pint jar of harmless ash.
Waste to energy
The waste-to-energy component of Terragon's Micro Auto Gasification System uses a patented auto-gasification process to convert combustible waste into more than 2,400 kilowatt-hours of energy per day. The process is almost one hundred percent self-sustaining because the gas it generates is captured and reused for heating each next batch of waste. The only by-product is a small volume of biochar (charcoal).
"The system essentially bakes the trash and recovers a high portion of combustible gas byproduct, which is used to fuel the process," says Donn Murakami, the MARFORPAC science adviser who leads the Marine Corps' evaluation team.
The energy-efficient and clean-burning properties of the Micro Auto Gasification System make it attractive to expeditionary units. It has a low carbon footprint, and emissions are not visible, which is a tactical plus. Waste heat can also be used for practical purposes, such as heating living quarters or water.
Water management 
The water-to-water piece of the solution uses a patented electrocoagulation process to treat wastewater so it can be reused for cleaning, toilet flushing, irrigation and other non-potable applications — or discharged back into the environment with no risk of contamination.
Value of working with CCC
In addition to helping Terragon navigate the U.S. DoD procurement system and checking all the necessary due diligence boxes, Terragon's participation in CCC's U.S. DoD Prime Contractor program provided a Government of Canada guarantee of contract performance.
The contract with the U.S. DoD opened the door to many other contracts with government agencies including more contracts for Terragon with other agencies in the United States.
Large market potential for Terragon
Terragon's solution has potential value for any site or community that lacks access to a central waste grid or that pays a high price for resources. That could include communities in the North and other remote habitats, ships at sea and more. Some potential buyers, such as militaries, fall into both categories.
"The U.S. has about 4,000 forward operating bases," said Terragon President and CEO Peter Tsantrizos. "And the global opportunity is even broader than that because other countries look to what the U.S. military is doing."
Contract with U.S. Marine Corps, California
Terragon won a follow-up contract with the Marine Corps Air Ground Combat Center in California to address liquid and solid waste streams at Forward Operating Bases (FOB). 
The installation of Terragon's patented technologies on-site was designed to reduce the requirements for water and wastewater transportation, improve self-sustainability, decrease costs, and reduce security risks.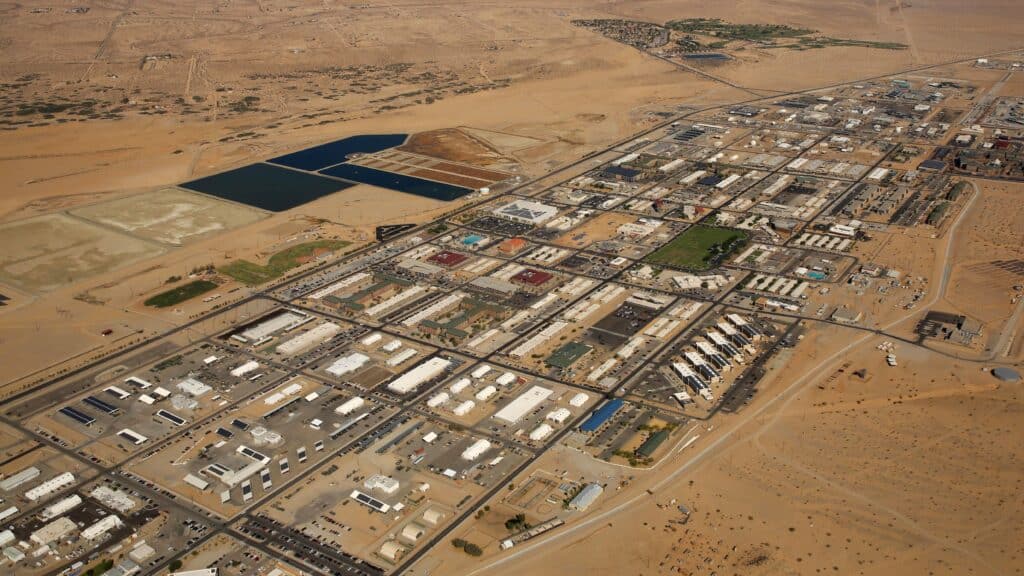 Contract with U.S. National Parks Service
The United States National Parks Service was looking for an economically viable waste management solution that would treat waste produced by the 125 residents of the Hawaiian island of Moloka'i. The agency chose Terragon's Micro Auto Gasification System to meet their waste management criteria, but also because it would generate enough energy to provide the community with its first laundry facilities.
"We are the company that is trying to look at waste not as waste, but as by‑products that we need to re‑purpose. This creates not only a different technology, but a different approach to the market," said Tsantrizos.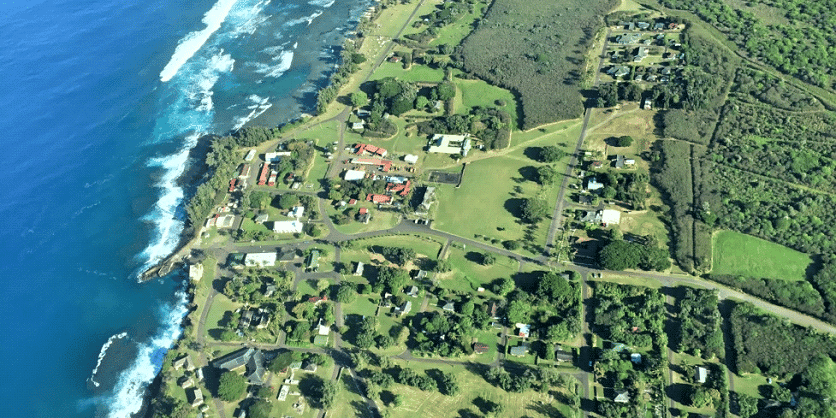 Terragon receives USDA approval for treatment of Regulated Garbage
In 2019, Terragon's Micro Auto Gasification System received United States Department of Agriculture (USDA) approval as a new technology for handling regulated garbage. The commonly employed technologies including incinerators, sterilizers, and grinders only offer sterilization and volume reduction benefits. The Micro Auto Gasification System also offers onsite energy generation and carbon sequestration resulting in fewer CO2 emissions.
The Micro Auto Gasification System is also compliant with the European Union's Industrial Emissions Directive (2010/75/EU), United States EPA, Canadian, and other land-based emission requirements.
What is Regulated Garbage (RG)?
Regulated Garbage is organic waste material discharged from various modes of transportation, such as ships and airplanes, arriving from any location outside of United States and Canadian borders.
Why does Regulated Garbage matter?
Regulated Garbage is not harmless waste; it can potentially carry a vast array of plant and animal pests and diseases which can then take root and proliferate in North America. 
Some commonly known diseases that can be spread via Regulated Garbage include African swine fever, avian influenza, and bovine spongiform encephalopathy or "mad cow disease". Effectively sterilizing these waste streams ensures that contamination does not occur.
Let us help you start your next government to government contract.
The Canadian Commercial Corporation is a federal crown corporation and is only the Canadian agency that offers commercial advocacy, collaborative project development, and international contracting expertise to help Canadian businesses secure contracts with foreign governments at the national, state, and municipal level.
Our International Prime Contractor is a fee-based program where we sign government to government (G2G) contracts with foreign government buyers for the sale of Canadian solutions. 
Our U.S. DoD Prime Contractor program is a free program funded by the Government of Canada and supported by the U.S. Government, to help Canadians sell their products, services and solutions to the U.S. military. To learn more about CCC and how we can help you, contact us.
Last updated: September 2022